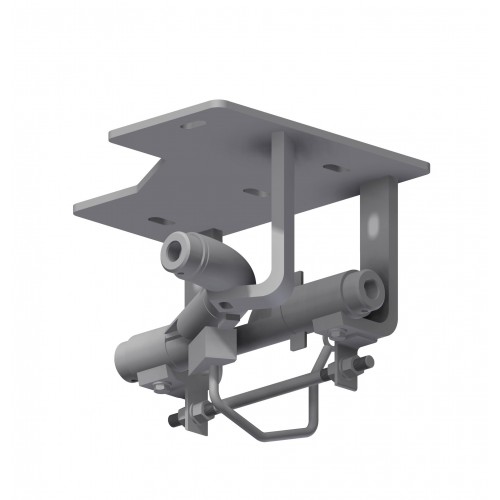 2 Way Turn-Out Switch
Ships from:
FOB Brampton, ON Canada
U/M:
Each
Stock:
On Order
CM:
8013
Note:
Shipping to be determined

Crossover Switch
The two-way turnout of the pipe queue is used to change the direction of the raw material along the rail system.
Made of hot-dip galvanized steel or stainless steel. The track is made of full material.
The set includes a stainless-steel chain that allows rotation of the turnout. With a division into the 48.3 or ∅60.3 queue pipe.
Types of turnouts:
RLL turnout:
R - turnout
L - turns left
L - left suspension
| | | | |
| --- | --- | --- | --- |
| Type | Pipe Diameter | Material | Weight |
| RLL1 | Ø 48.3 | stainless track | 24 kg |
| RLL2 | Ø 48.3 | galvanized track | 24 kg |
| RLL3 | Ø 60.3 | stainless track | 37 kg |
| RLL4 | Ø 60.3 | galvanized track | 37 kg |
RLP turnout:
R - turnout
L - turns left
P - right suspension
| | | | |
| --- | --- | --- | --- |
| Type | Pipe Diameter | Material | Weight |
| RLP1 | Ø 48.3 | stainless track | 22.5 kg |
| RLP2 | Ø 48.3 | galvanized track | 22.5 kg |
| RLP3 | Ø 60.3 | stainless track | 35 kg |
| RLP4 | Ø 60.3 | galvanized track | 35 kg |
RPL turnout:
R - turnout
P - turns right
L - left suspension
| | | | |
| --- | --- | --- | --- |
| Type | Pipe Diameter | Material | Weight |
| RPL1 | Ø 48.3 | stainless track | 22.5 kg |
| RPL2 | Ø 48.3 | galvanized track | 22.5 kg |
| RPL3 | Ø 60.3 | stainless track | 35 kg |
| RPL4 | Ø 60.3 | galvanized track | 35 kg |
RPP turnout:
R - turnout
P - turns right
P - right suspension
| | | | |
| --- | --- | --- | --- |
| Type | Pipe Diameter | Material | Weight |
| RPP1 | Ø 48.3 | stainless track | 24 kg |
| RPP2 | Ø 48.3 | galvanized track | 24 kg |
| RPP3 | Ø 60.3 | stainless track | 37 kg |
| RPP4 | Ø 60.3 | galvanized track | 37 kg |