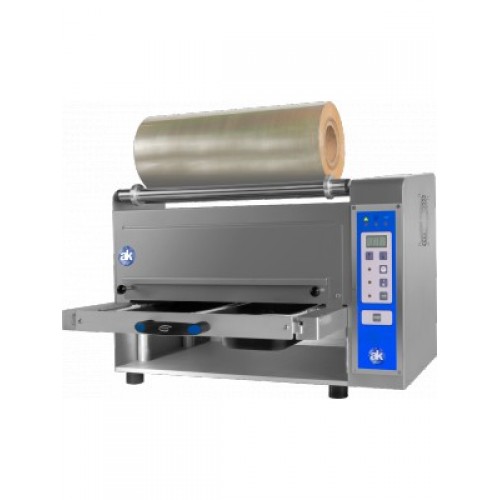 Semi-Automatic Tray Sealer TS-300
Type:
Seal:380x265mm
Brand:
1059
Location:
FOB Brampton, ON Canada (O)
U/M:
Each
Stock:
On Order
Shipping Dimension:
31 X 29 X 28
Shipping Weight:
217 lbs
CM Product Code:
6477
Financing Available

Note:
Shipping to be determined

Parts List

AK Ramon Semi-Automatic Tray Sealer TS-300
Technical information
Stainless steel construction.
Die set in anodized aluminum.
Semi-automatic tray sealer.
Automatic sealing system.
Automatic film feed.
Acoustic and visual device end of cycle.
Profile cut of film.
Digital panel with temperature control (0º-230ºC).
Compact and robust model.
Easy change of mold, molds are interchangeable in few seconds.
Fast heating of the selected temperature.
Simple use machine.
Allows working with different trays materials types, PP, PET, ALUMINUM…
Air compressor required for working.
Machine works in single phase.
Maximum sealing surface: 380x265mm.
Film roll width: 430mm.
Power: 1,500W.
Standard die set
1/8 GN (168x130mm) - 4 cavities.
1/4 GN (160x260mm) - 2 cavities.
1/2 GN (320x260mm) - 1 cavity.
Options
Any type of special die set can be made according to the customer trays.
6L. Silent air compressor.