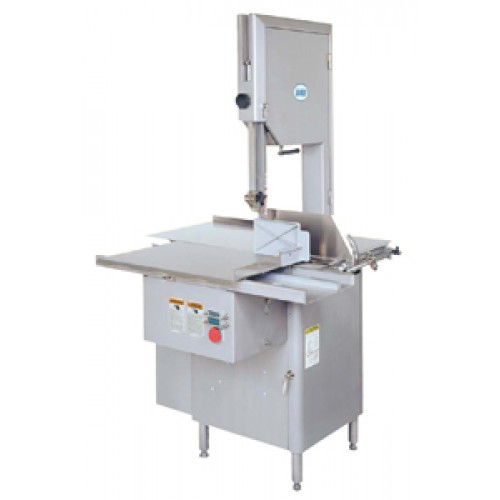 Floor Model Biro 3334SS-4003FH Meat Saw
Type:
Made in USA
Brand:
1209
U/M:
Each
Stock:
On Order
Product Weight:
522 Lbs.
Shipping Dimension:
38 X 50 X 79
Shipping Weight:
583 lbs
CM Product Code:
420
Financing Available

Note:
Shipping to be determined

Biro 3334SS-4003FH (FIXED HEAD) (16")
The industry standard 16" Meat Saws feature all stainless steel unitized welded enclosed base structure with aluminum head structure. A stainless steel head is available at extra cost. The 3334SS is of proven design, durable, and reliable and is applicable to all small, medium, and large supermarkets, and small and medium meat plants. True blade alignment allows excellent blade tracking, giving dependable straight cutting year after year. A broad range of right hand feed and true left hand feed machines are available. There are numerous configurations and optional equipment to select from to meet your exact requirements.
CONSTRUCTION
Unitized stainless steel base, tables, leg bolt levelers, carriage channel & supports, stainless steel door and fixed head
MOTORS
| | | | | | | | |
| --- | --- | --- | --- | --- | --- | --- | --- |
| HP | KW | TYPE | VOLTS | AMPS | CYCLE | PH | STATUS |
| 3 | 2.2 | TE | 208V | 9.1-8.6/4.3 | 60 | 3 | STD |
| 3 | 2.2 | TE | 208V | 16.8-15.2 | 60 | 1 | EC |
STANDARD FEATURES
Two saw blades • Operation and Safety manual • Safety wall poster • End cut safety pusher plate
SWITCH: Watertight magnetic, thermal overload and under voltage protection
HEAD AND DOOR : Stainless steel – fixed
BASE STRUCTURE: Unitized welded, Stainless steel
BLADE STANDARD: 124" (3150mm) L x 5/8" (16mm) W x .022 (.5mm) thick, 3 teeth per inch, hard tooth, (two supplied with each saw)
BLADE GUIDE: Upper and lower blade backup guides assembly with carbide long-life inserts, removable as an assembly
BLADE TENSION: Factory preset spring screw handle assembly
BLADE WHEELS: 16" (40.24cm) single flange, cast iron, nickel plating, upper wheel assembly removable
BEARINGS: Heavy duty tapered roller bearings used in upper wheel hub and lower bearing housing
CATCH PAN: Poly Pan, rounded corners, sealed off from other parts of base, accessible through hinged door
CLEANING UNIT: Stainless steel body, long-life carbide guide inserts, steel saw cleaners, removable as a unit for easy cleaning (assembly also adjustable as a unit)
DRIVE SYSTEM: Double V-belt tension – adjustable
LEGS Stainless steel leg bolt levelers
MEAT CARRIAGE: Larger stainless steel 8-bearings E-Z flow carriage 17-1/2 (444 mm)W x 25-9/16" (649 mm)L
MEAT GAUGE PLATE: Stainless steel faced, adjustable from 1/16" (1.6mm) to 6-1/2" (106.1mm), Locks in position, easy to adjust, entire assembly removable for cleaning
MOTOR COMPARTMENT: Sealed off from meat contact areas, easily accessible through removable panel door
PLATTER Held in place with two stainless steel push-pull hold down latches
PUSHER PLATE: Safety end cut pusher plate and safety pusher plate storage hanger are supplied as standard equipment