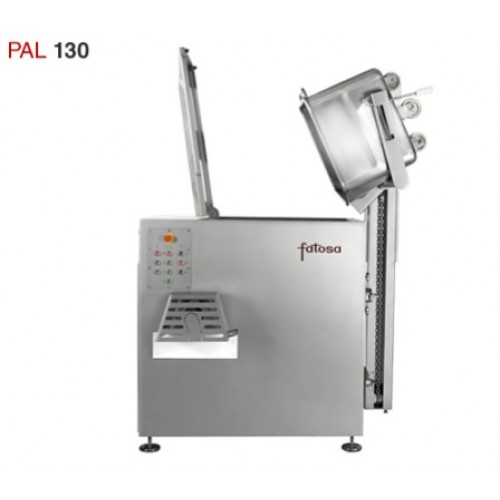 Fresh & Semi-Frozen Meat Mincer PAL130
Type:
Output: 4000 kg/hr
Country of Origin:
Spain
Ships from:
FOB Brampton, ON Canada
U/M:
Each
Stock:
On Order
Shipping Dimension:
48 X 48 X 62
Shipping Weight:
600 lbs
CM:
1402
Financing Available

Note:
Shipping to be determined

Brochure

FATOSA Automatic Mincer 130 mm type PAL130
This mincing machine is appropriate for mincing fresh and semi-frozen meat down to temperatures lower than -12ºC, depending on the diameter of the holes in the output plate. They are also appropriate for other types of products, such as fish, vegetables, etc. The productions achieved make them suitable for middle and high-level manufacturing, reaching productions of up to 8000 kg/hour.
Sturdily built, they are made of stainless steel, including the cutting chamber, the worms, and the attachment bolts. The cutting chamber allows the mounting of three to five elements of the Unger cutting system. There is also a low-voltage maneuver with electrical equipment built into the machine. They include the protector of the mouth of the output, smooth surfaces, cutting worms, and feeding, that can be easily and quickly taken apart, which makes cleaning very easy.
Machines that are designed and manufactured following all the EC regulations regarding hygiene and safety.

The automatic mincing machine model PAL130 form a part of the machinery for industrial productions. Equipped with two worms, the feeding worm mounted at a 90-degree angle with respect to the cut, along with the shape of the hopper, assuring efficient and continuous feeding into the machine. The worm works at three speeds, a slow speed for hard products or for jobs with a small-diameter plate, a medium speed for working with fresh products, and a high speed for working with large-diameter plates.
The standard model is equipped with a high-power engine for the worm, and a single speed, which allows it to work at temperatures of down to -12ºC. In the option of the 2V models, the engine for the cutting worm has two speeds; the high speed is ideal for obtaining large productions with fresh meat and soft products.

Options:
Separator for hard parts
Column lift for 200-litre carts adapted
Column lifter EC200 for 200L bins adapted to machine
Supplement machine equipped with 2 knives for frozen meat 4x8 with external ring and support star ring
Hard parts separator set
Features:
130 mm Mincer, type PAL130
Stainless steel
Angle feeding (2 worms)
Hopper capacity 215 liters
Safety lid
Meat outlet protector
1 cutting speed
3 feeding speeds
Cutting system Unger 5
Delivered with 2 knives 4 x 8, 1 plate 4 mm, 1 plate 13mm and 1 plate 3 holes.
Maximum production: Up to 4,000 Kg/h
Technical Data:
Cutting Motor 15 kW
Voltage 400V 50Hz 3Ph Std (option for 220V 60Hz 3ph)
Packing dimensions and approx. G.W.:

PAL130: 170x146x173 cm – 875 kgs
EC200: 243x63x100 cm – 300 kgs