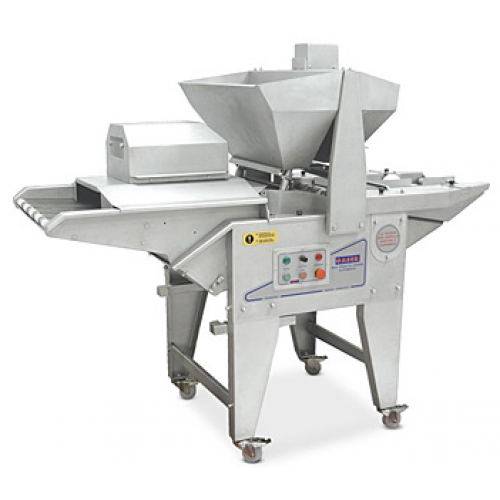 Gaser Automatic Batter Breading Machine - Practic 350
Type:
Output:5000-12000 pieces/hr
Brand:
1019
Location:
FOB Brampton, ON Canada (O)
U/M:
Each
Stock:
On Order
Shipping Dimension:
82 X 40 X 32
Shipping Weight:
629 lbs
CM Product Code:
3377
Financing Available

Note:
Shipping to be determined

Parts List

Gaser Automatic Batter Breading Machine - Practic 350
TECHNICAL SPECIFICATIONS
Automatic battering and breading.
Useful width: 350 mm (to order this can be 400 mm).
Speed variable from 9 to 15m per minute.
Output: 5,000 to 12,000 pieces per hour.
Motor power: 370 watts.
Electrical operation -single-phase -120 V 60Hz
Automatic bread feed.
Inverter for discharging bread.
Blower for excess liquid.
Plane output at a height of 960mm.
Mounted on 4 legs with stainless steel wheels.
Fully dismantlable for easy cleaning.
Made in stainless steel and non-toxic plastics (suitable for the meat industry).
30-litre top-mounted batter tank.
Batter agitator.
50-kilogramme top-mounted breadcrumbs tank.
Maximum robustness and durability.
Easy maintenance.
Machine weight: 200 kg approx.
Measurements of the machine when assembled: 1,985 x 880 x 1,640 mm.
Can optionally be fitted a turbine to blow the breadcrumbs on the top side.
THE EASIEST, MOST EFFECTIVE AND MOST ECONOMICAL SYSTEM