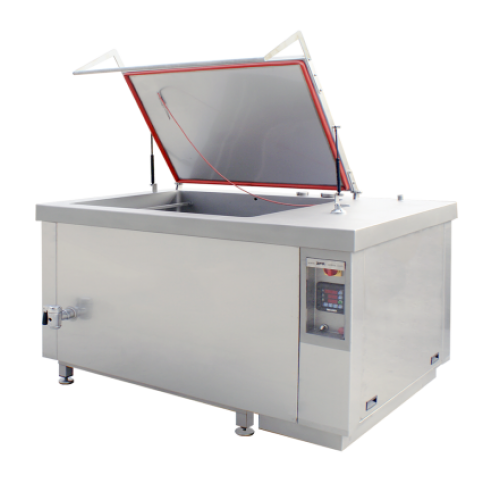 Cooking Boiler KP-600
Type:
Capacity: 600 liters
Ships from:
FOB Brampton, ON Canada (O)
U/M:
Each
Stock:
On Order
CM:
7360
Financing Available

Note:
Shipping to be determined

Brochure

Cooking Boiler KP-600
The cooking boiler is used for cooking meats, cold cuts, sausage products and melting fat.It can be heated electrically.
The cooking boiler is entirely made of 0H18N9 acid-resistant steel with thermal insulation and a tightly fitting lid.
It is designed for operation in the automatic mode, the Mikster INDU 50 controller controls and monitors the technological process parameters,ensuring their repeatability, high quality of the products and the minimal possible involvement of the service staff.
It has the unique design of the heat exchanger in the cooking boiler, and the use of the best thermal oils the boiler is characterized by very high efficiency – which translates into profits for the user.
Controlers Power Supply: 230/220V 60Hz 1Ph
Maximum operating temperature: 99° C / 160° C or 210.2° F / 320° F
| | | | |
| --- | --- | --- | --- |
| Kettle volume [L] | Water bowl A x B [mm] | Tabletop C x D [mm] | Gas burner |
| 300 | 550x1020 | 1150x1250 | Bentone STG 120 |
| 400 | 700x1020 | 1300x1250 | Bentone STG 120 |
| 500 | 850x1200 | 1450x1250 | Bentone STG 120 |
| 600 | 1000x1020 | 1600x1250 | Bentone STG 120 |
| 700 | 1150x1020 | 1750x1250 | Bentone STG 146 |
| 800 | 1300x1020 | 1900x1250 | Bentone STG 146 |
| 900 | 1450x1020 | 2050x1250 | Bentone STG 146 |
| 1000 | 1600x1020 | 2200x1250 | Bentone STG 146 |