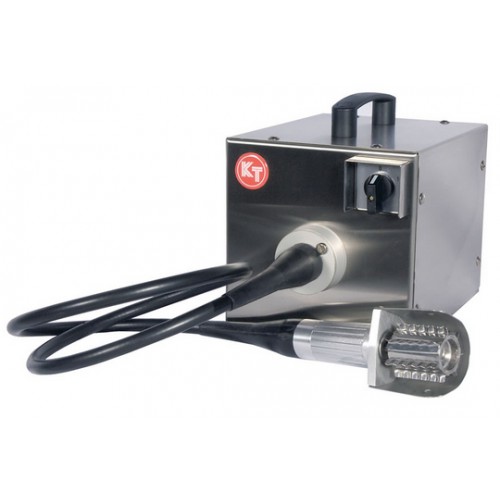 KT-S Fish Scaler
Ships from:
FOB Brampton, ON Canada
U/M:
Each
Stock:
On Order
Shipping Dimension:
9 X 8 X 10
Shipping Weight:
28 lbs
CM:
2778
Financing Available

Note:
Shipping to be determined

KT-S Electric Fish Scaler
The KT-S Electric Fish Scaler is the preferred choice of commercial fisheries all over the world.
The reason? The cord is thinner (9/16"), lighter and more flexible than any other commercial hand scaler, allowing the operator to work longer without tiring.
Electric Fish Scaler - Basic Details:
The metal scaling head is protected by a metal splash guard, and spins on ball-bearings. All external parts are waterproof. The cable casing has 4 layers, 2 of steel, one of insulation, and a rubber outer cover.
The motor is housed in an internally grounded stainless-steel box with an on/off switch, securely insulated and protected from spray. Because it is internally grounded, the KT-S does not require an external ground.
It can be plugged into a wall socket that is grounded or not, and it comes equipped with the proper plug for the destination country.
The KT-S is capable of continuous use in commercial fishing operations.
The KT-S is shipped with the Standard head as shown, which is used for most fish. Specialty heads for Salmon and very large-scale fish are available. We recently created a more aggressive Diamond spindle, which all testers liked.
This is the most durable, heavy duty electrical fish scaler you can find. The KT-S Electric Fish Scaler is made in Europe.
In addition to domestic sales, we have shipped the KT-S Electric Fish Scaler to Canada, the Middle East, Europe, Australia, New Zealand and many other countries. We believe it is the best hand-held fish scaler available.
The KT-S is available in 110v or 220v. The drive cable can be either 150cm (59") or 200cm (78") long. Consider your work setup when ordering.
Note on Voltage:
We recommend that you order the voltage that is in general use in your country. For countries in North America, it is 110v. For most other countries it is normally 220v.