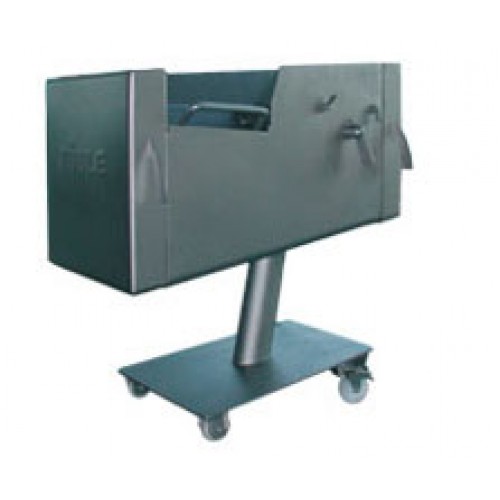 Ruhle SR 1 Dicers
Type:
Production Capacity: 900 - 1500 kg/hr
Country of Origin:
Germany
Ships from:
FOB Brampton, ON Canada
U/M:
Each
Stock:
On Order
Product Dimension:
35" L X 24" W x 39" H
Product Weight:
617
Shipping Dimension:
48 X 32 X 54
Shipping Weight:
662 lbs
CM:
574
Financing Available

Note:
Shipping to be determined

High-tech Cutting machine SR 1 and SR1 Turbo
This compact machine offers high throughput and optimal sanitary features. Frozen or directly out of the cooking pot, the Original SR 1 cuts the best possible cubes and strips from any type of meat.
Advantages:
Excellent cuts in various fields of application
High hourly capacity
The hygienic properties help clean in less than five minutes achievable.
These are capacity-parameters, which could only be obtained by new machine-concept, that helps to make working and operating easier.
Technical Details:
SR1 Dicer

SR1 Turbo Dicer

SR 2 Turbo Dicer

AR 10 Dicer

Length of Machine

900 mm

1000 - 2100 mm

1550 mm

1070 – 1900 mm

Width of Machine

600 mm

710 - 1400 mm

900 – 1400 mm

690 – 890 mm

Height of Machine

980 mm

1110 mm

1300 mm

1040 mm

Weight of Machine

280 kg

325 kg

850 kg

245 kg

Connected load

1,5 kW / 16 A

2.1 kW / 16 A

3,5 kW / 16 A

3.8 kW / 16 A

Width of shaft

100 mm

100 mm

120 mm

100 mm

Height of shaft

100 mm

100 mm

120 mm

100 mm

Length of shaft

350 mm

350 mm

500 mm

350 mm

Section length

1 - 32 mm

1 - 32 mm

0,5 – 32 mm

0.5 – 60 mm

Sections

80 per min

160 per min

160/320 per min

200 per min

Cutting temperature

-5°C - +80°C

-5°C - +80°C

-5°C - +80°C

-5°C - +80°C

Cutting output

900 kg max.

1500 kg max.

3000 kg max.

1800 kg max.

Standard grid-sizes

1) 5, 10, 20, 50mm

2) 6, 12, 24, 50mm

3) 7, 15, 30, 50mm

1) 5, 10, 20, 50

2) 6, 12, 24, 50

3)7, 15, 30, 50

1) 5, 10, 20, 40, 60

2) 6, 12, 24, 60

3) 7, 15, 30, 60

3, 5, 6, 8, 10, 12, 15, 16, 20, 24, 30, 50