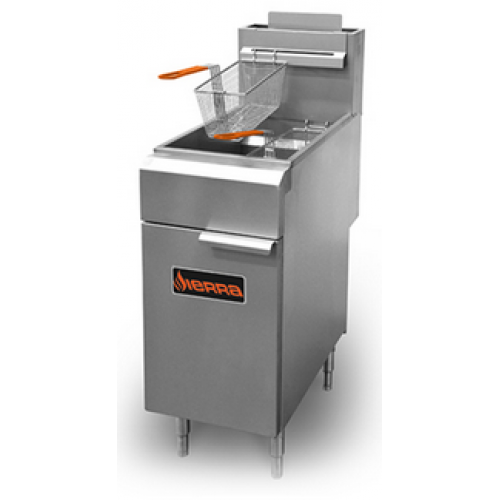 Sierra Gas Fryer - CMRF 35-40
Type:
Capacity: 30-40 Lbs
Location:
FOB Brampton, ON Canada
U/M:
Each
Stock:
On Order
Product Dimension:
21 x 35.1 x 53.2 Inches
Product Weight:
133 Lbs.
Shipping Weight:
150 lbs
CM Product Code:
3583
Financing Available

Note:
Shipping to be determined

Sierra Gas Fryer - CMRF 35-40
The Sierra all-purpose fryers feature outstanding reliability and durability, capable of cooking a wide variety of fried foods with consistent uniformity and great taste.
Three highly efficient cast iron burners and stainless-steel tubes create a large heat transfer area for even heat distribution.
90,000 BTUs/hr
Specifications
| | |
| --- | --- |
| Model Number | CMRF-35-40 |
| External Dimensions(WxDXH) including handle | 21" x 35.1" x 53.2" |
| Number of Bruners | 3 |
| Fryer Capacity | 35-40 lbs |
| BTU(each burner at 5" W.C) | 30,000 |
| Total BTU | 90,000 |
| Net Weight | 133 lbs |
| Shipping Weight | 150 lbs |