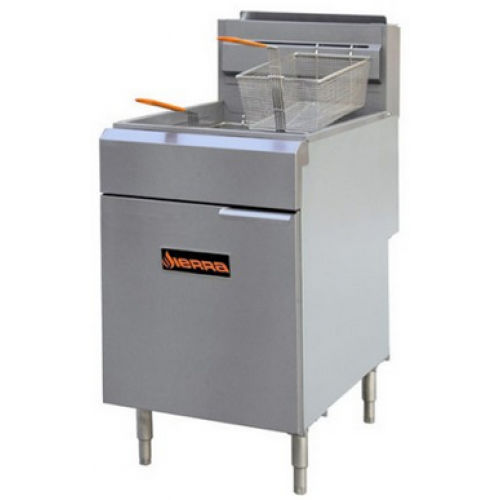 Sierra Gas Fryer - CMRF 75-80
Type:
Capacity: 75-80 Lbs
Location:
FOB Brampton, ON Canada
U/M:
Each
Stock:
On Order
CM Product Code:
3586
Financing Available


Sierra Gas Fryer - CMRF 75-80
The Sierra all-purpose fryers feature outstanding reliability and durability, capable of cooking a wide variety of fried foods with consistent uniformity and great taste. Three highly Escient cast iron burners and stainless-steel tubes create a large heat transfer area for even heat distribution. Our durable temperature probe senses temperature changes and activates a quick burner response.
The temperature for the CMRF-75/80 ranges from 200°F (93°C) to 400°F (204°C). Includes Millivolt safety control system.
Every inch of the fry pot and cold zone can be cleaned and wiped down by hand. The large cold zone and forward sloping bottom help collect and remove sediment from the fry pot to safeguard oil quality and support routine fry pot cleaning.
6" swivel casters are optional (2 locking, 2 non-locking).
150,000 BTUs/hr.
Large cold zone area.
Delivers heat through 6" x 2" 16-gauge stainless steel heat exchange tubes for even heat transfer and rapid temperature recovery
Fry pot is manufactured from 439 grade stainless steel.
1.25" stainless steel full port ball type drain valve.
Stainless steel door is reinforced for added strength with a heavy-duty magnetic door catch.
Stainless steel front. Galvanized side and back panels.
Twin fry baskets with plastic coated handles. Stainless steel basket hanger, easily removable for cleaning.
Robertshaw snap action millivolt thermostat control adjusts from 200°F-400°F. No electrical hook-up required.
Hi-limit shut-o protector shuts of gas combination valve and standing pilot.
Built-in ‑flue de‑flector.
Nickel-plated tube rack.
Set of four stainless steel adjustable legs.
The CMRF-75/80 is available for Natural Gas or Liquid Propane installation. Please specify gas when ordering.
Specifications
| | |
| --- | --- |
| Model Number | CMRF-75/80 |
| External Dimensions(WxDXH) including handle | 21" x 35.1" x 53.2" |
| Number of Bruners | 5 |
| Fryer Capacity | 75-80 lbs |
| BTU(each burner at 5" W.C) | 30,000 |
| Total BTU | 150,000 |
| Net Weight | 210 lbs |
| Shipping Weight | 265 lbs |