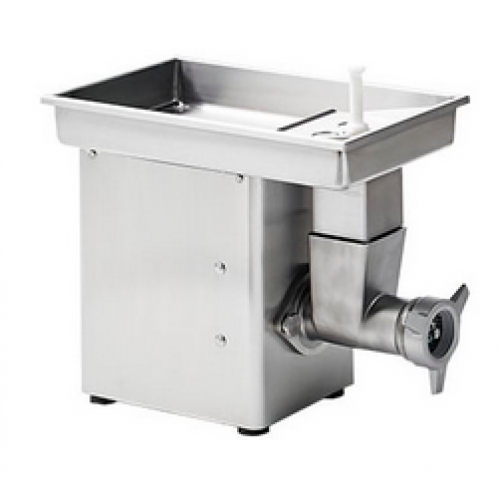 Meat Mincer W114/K Tabletop
Type:
Output: 900-1200 kg/hr
Brand:
1164
Location:
FOB Brampton, ON Canada (O)
U/M:
Each
Stock:
On Order
Shipping Dimension:
39 X 29 X 38
Shipping Weight:
245 lbs
CM Product Code:
7832
Financing Available

Note:
Shipping to be determined

Brochure

Talsa W114/K Table Top Meat Grinder
Talsa meat mincers are equipped as standard with knives and plates made of special carbon steel of the highest strength and durability.
This material is characterised by significantly lower wear and tear, which prolongs the service life of the knives and plates and prevents contamination of the meat by abrasion of metal particles as with soft stainless steel alloys.
Features:
Complete mincing head made of high quality stainless in microfusion quality.
Large filling tray with hand protection. Completely made of stainless steel.
Removable mincing head: no transmission of motor heat – best cutting results
High performance and energy efficiency, quieter and less heat generation.
With overheating protection.
Rugged gearbox made of steel, with oil bath.
Automatic safety switch.
Available Options to choose from Cutting system:
W114/U2 - Single Cutting System included with machine
W114/U3 - Double Cutting System included with machine
W114/U5 - Quadruple Cutting System included with machine

1 Single cutting knife D-114
2 plates with holes 5 mm and 7.8 mm
Other sizes available 2,3,4,5,6,7.8,10,13 mm (Extra Cost)

1 compensating ring
1 Single cutting knife and 1 double cutting knife
1 pre-cutting kidney plate 3 large straight holes
2 plates with holes 5 mm and 7.8 mm
Other sizes available 2,3,4,5,6,7.8,10,13 mm (Extra Cost)

2 compensating rings
1 Single cutting knife and 1 double cutting knife
1 pre-cutting kidney plate 3 large straight holes
3 plates with sizes 3 mm, 5 mm, 7.8 mm
Other sizes available 2,3,4,5,6,7.8,10,13 mm (Extra Cost)
Specifications:
Diameter of Mincer Plate: Unger D 114mm
Tray Capacity: 23 Liters
Hourly output: ±900 to 1200 kg/hr
Voltage: 220V 60Hz 3ph
Power: 5 Hp
Noise level at 1 m: 64 dB(A)
Net Weight of machine: ±245 lbs