Used AIR CLIPPERS KT MS 2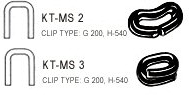 KT-MS Sausage closing machine: An air-powered closing machine for natural / artificial casings, ham netting, packing bags etc. The efficient table-top model is ideal for sausage factories, butcher's shops etc.

The appliance is made of anodized aluminium profile and special steel.

Technical data:
Air pressure 6/80 bar/psi, impact velocity 40/min, weight 8 kg. Accessories: combined pressure equalizer / oiling device / water separator and aluminium clips.