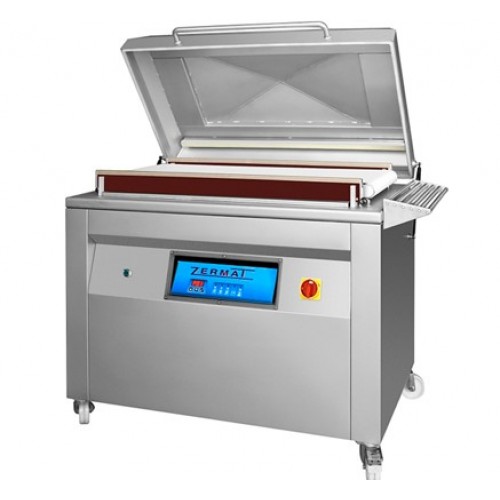 Vacuum Packaging Machine CV 1000 Plus
Type:
Seal Bar: Various Types
Ships from:
FOB Brampton, ON Canada (O)
U/M:
Each
Stock:
On Order
CM:
7917
Financing Available

Note:
Shipping to be determined

Zermat Vacuum Packaging Machine CV 1000 Plus
Vacuum packaging machine with possibility to automate the lid movement and the discharge of bags, tapes, other equipment or reception tables.
Characteristics
Solid construction, simple and robust in stainless steel
Control panel with 20 programs
Progressive air inlet -soft air
Sealing time control
Easy maintenance
Technical Specifications
External dimensions: 1180 x 870 x 1250 mm
Chamber inner dimensions: 1054 x 630 x 180 mm
Seal bars:
a) 1 x 900 mm + 1 x 550 mm
b) 2 x 1000 mm + 1 x 490 mm
c) 2 x 900 + 1 x 550 mm
Vacuum pump: Busch 100 m3/h (160 m3/h)
Connection: 220V 3Ph
Power: 3.5 Kw
Options:
Inert gas injection in bag.
1-2 Cut-off-seal.
Automatic lid.
Internal conveyor belt for the product expulsion.
160m³/h Busch vacuum pump (outside).