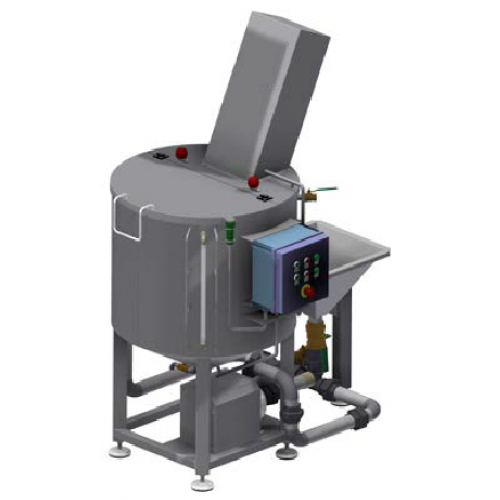 MSR 200 Brine Mixer
Type:
Capacity: 200 litres
Location:
FOB Brampton, ON Canada
U/M:
Each
Stock:
On Order
CM Product Code:
2874
Financing Available

Note:
Shipping to be determined
Brochure
MSR200 Brine Mixer
The brine mixer is used to produce a homogeneous solution of brine. The resulting solution can be used in the processes of meat processing (e.g. injections). The mixer is a device detached brine made of stainless steel.
The device consists of the following elements: a tank (with chute), mechanical stirring, mixing/transporting pump, loose material hopper, distribution pipe with valves, control box. Mixing solution is done using a mechanical agitator and through circulation of the brine.
Specifications:
Total capacity (L): 200
Installed power (kW): 0,75
Pump: Ebara WdO 150
Pump power: 1,1 kW
Rotation: fixed rotation
Supply voltage (V/hz): 3x400/50
Weight (kg): 180