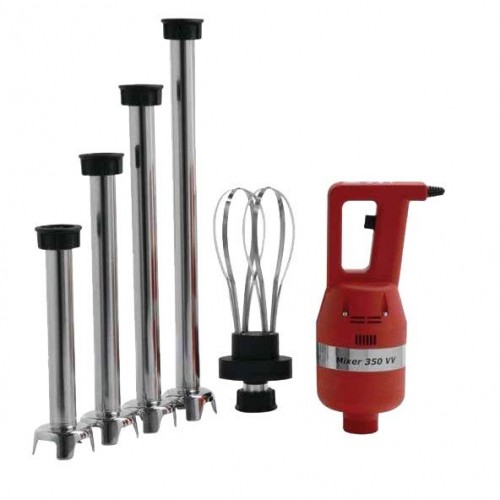 MIX 350V Heavy Duty Immersion Blender
Type:
Variable Speed
Location:
FOB Brampton, ON Canada (A)
U/M:
Each
Stock:
On Order
Shipping Dimension:
14 X 19 X 6
Shipping Weight:
20 lbs
CM Product Code:
7896
Note:
Shipping to be determined
Brochure
MIX 350V Heavy Duty Immersion Blender
Indispensable in any professional kitchen.
It has variable speed 350-Watt motor unit.
The mixer shaft tool is mainly used for vegetable soups, puree, mayonnaise, etc.
The whisk is used for whipped cream, creams, etc.
Abs construction, fan assisted motor equipped with thermal protection, ergonomic handle, LCD display, forged steel blades.
Technical Specifications:
Speed (Variable): 2000-9000 rpm (Maximum: 15000 rpm)
Power: 350 watt
Electrical: 110V 60Hz 1Ph
Power Head Dimension: 130 x 360 mm (Diameter x Height)
Detachable Shaft Height: 300mm, 400mm, 500mm, 600mm
Whisk Height: 360mm