About Us
CM Machine Services Ltd.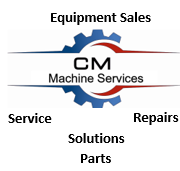 Quality. Integrity. Excellence
Not just a company; A company that manufactures relationships and distributes quality.
We envisioned specializing in Equipment Sales Service and Repairs for the food industry. Our passion and vision planted a seed in our thoughts which soon bloomed into the growing CM Machine Services Ltd. CM Machine Services Ltd. is proudly owned by Carlos Matos and Anurag Sinha. Our quality equipment, superior service and experience in the industry has continued for more than 40 years. We bring you the best in class equipment from all parts of the world. In addition to training customers and servicing what we sell, CM Machine Services Ltd. is often called upon to consult for machinery and equipment selection and installation.
We are conveniently located in Brampton, ON, Canada.
CM Machine Services Ltd. formerly known as Modern Butcher Supply carries a large selection of equipment. Some equipment in the meat processing category include: Air Brine Agitators, Air Clippers, Bandsaws, Brine and Pickling Pumps, Brine Mixers, Buckets, Curing Centres, Curing Machines, Cutters, Derinders / Derinding Machines, Dicers, Feed Systems, Frozen Meat Cutters, Injection Centres, Grinders, Lifters, Lift Loaders, Membrane Skinners, Meat Grinders, Mincers, Mixers, Net Applicators, Packaging Centres, Sausage Stuffers, Sealing Machines, Smoke Generators, Smokehouses, Trolleys, Tubs, Tumblers, Vacuum Fillers, Vacuum Sealers, Vacuum Tumblers, Vemags. CM Machine Services Ltd. represents a large number of international companies including: Rühle (Ruehle), HTS, KT, MAJA, Vortron, Omcan, Alfa, Daniels Food Equipment, Fatosa, Franesse, Freund, IVO Cutlery, Presto Precision Products, Pycmo, Gaser, Hocker, M-Serra, Sipromac.
---
Additionally to Selling Equipment Service and Repairs - We Also Do Fabrication
Our in-house team consists of designers, engineers, millwrights, welders, machinists, electricians, plumbers, and CNC professionals, all trained, certified and highly skilled in the design, fabrication and assembly of custom equipment. Recognizing that your requirements are unique, our team will liaise with you in the design, fabrication, installation and start-up phases of your project, as large or as small that it may be, offering quality and cost effective solutions to suit your needs.
Our facility is fully equipped with state of the art equipment for machining all grades of stainless, aluminum, and specialty alloy steel. We offer a wide variety of services to meet all your needs - whether it is repair work, large or small run manufacturing. We offer both in-house and on-site consultations. All materials used in the fabrication and equipment refurbishing are compliant with the Canadian Standards Association.
Our Services include:
Precision CNC Punching, Bending, Machining, Turning and Milling

Design and Execution of Preventative & Predictive Maintenance Programs

Product Development

Process & Manufacturing Machinery

Employee Training Programs & Manuals

Turn-key Prototyping

Installation of Smokehouses and Ovens

Re-furbishing of Processing Equipment

Re-building, Retrofitting and Alteration of Specialized Machinery

Trouble-Shooting, Repair and Maintenance of Equipment

In-House & On-Site Design and 3D Modeling

Precision Machining Solutions

Certified TIG, MIG & Arc Welding Services

24 Hour provided to minimize down-time, adhering to your production schedules
We also offer custom structural fabrication of a wide variety of equipment for the food processing industry, as well as: Conveyors, Smoke Houses, Breaders, Glazers, Dumpers, Lifts, Flatteners, Tables, Fryers Catwalks, Bins, Handrails, Hangers, Mezzanines, Platforms , Stairs, Supports, Weldments, Chutes, Hoods, Hoppers, Mix Tanks, Railings, Boilers.
Our Commitment
With the commitment to excellence, our team will provide you with valuable insight in the product design and service offerings optimized to fill your individual specifications.
We pledge to provide the utmost in Workmanship & Service.