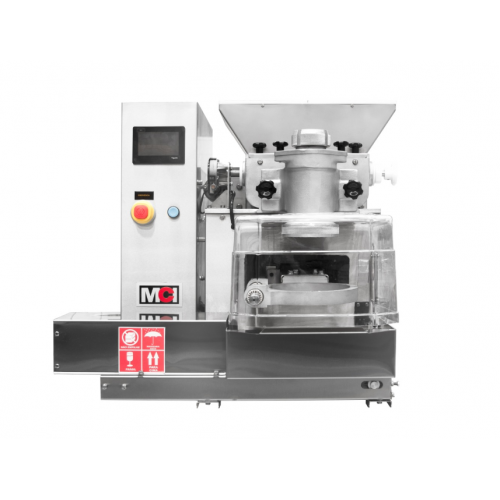 Maxx
Type:
6,000/ph
Country of Origin:
Brazil
Ships from:
FOB Brampton, ON Canada (A)
U/M:
Each
Stock:
On Order
Product Dimension:
32.38 x 28.74 x 44.10
Product Weight:
242
Shipping Dimension:
37 X 43 X 39
Shipping Weight:
319 lbs
CM:
8183
Financing Available

Note:
Shipping to be determined
Maxx Forming Machine
CM Machine Services offers Maxx, which formats and stuffs a varied of products. It is a robust and contains cutting edge technology, perfect for the entrepreneur who is looking for growth.
Features:
Digital panel of easy handling
Access to the mass regulation and filling of the product.
Touch screen panel
Produces 6,500 products an hour up to 20 grams
Size in diameter of the product: 15mm to 54mm
Size variation: 8g to 180g
Unlimited product length
Shape Sizing:
Drop shape: 8g to 180g
Ball shape: 8g to 85g
Croquette shape: 8g to 180g
Churro's shape: 10g to 180g
Kibbe shape: 8g to 180g
Rectangular shape: 12g to 75g
Technical Data:
220V 60Hz 1Ph
Certification: CE/UL
Net Weight: 110kg
Dimensions of machine: 28.35x36.61x28.74 inches
220V, 1.3kw
Transportation and logistics dimensions: 39.37x42.52x36.61 inches
Gross Weight: 145kg
Product Ability Examples:
Kibbe/Kibbeh/Kubba with cheese
Sausage roll/mini hot dog
Gnocchi
Meat ball
Codfish Ball
Cheese Ball Croquette
Coxinha
Small pie
Rissoles
Ham ball
Filled polenta
Felafel
Arancini
Camafeu
Doughnut
Panettone
Cupcakes
Coconut Balls
Sweet coxinha
Brigadeiro
Churros
Cake pop
Note: It is recommended to not use oil in the dough because oil can have variations in the size of the product, instead it is recommended to use margarine (butter).