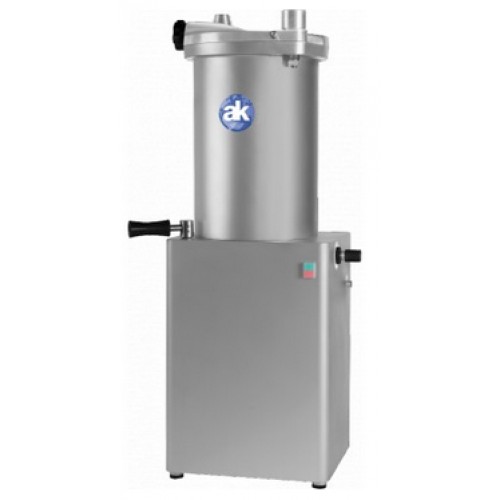 Hydraulic Piston Stuffer SC-40 Star
Type:
Capacity: 40 liters
Brand:
1059
Location:
FOB Brampton, ON Canada (O)
U/M:
Each
Stock:
On Order
Shipping Dimension:
23 X 26 X 63
Shipping Weight:
430 lbs
CM Product Code:
2706
Financing Available

Note:
Shipping to be determined

AK-RAMON SC-40 Star Hydraulic Piston Filler
Features
Totally constructed with AISI 304 stainless steel, including lid and piston.
Independent oil tank with AISI 304 stainless steel.
Equipped with pressure gauge.
Equipped with speed regulator.
Automatic decompression of the piston to prevent the mass comes out.
Bottom of the cylinder made of AISI 304 stainless steel, without any crew for easy cleaning
Bank and cylinder completely sealed together.
Knee lever to raise and lower the piston .
AISI 304 stainless steel nozzles Ø 12, 20 & 30mm. (other Ø on request).
Ideal machine height to work ergonomically.
Easy cleaning.
Specifications
| | |
| --- | --- |
| Cylinder Capacity | 40 liters |
| Three Phase motor power hP/kW | 1.5/1.1 |
| Single Phase motor power hP/kW | 1.5/1.1 |
| Machine Weight | 410 lbs |
| Shipping Dimension | 560 x 660 x 1590 mm |
| Shipping Weight | 430 lbs |