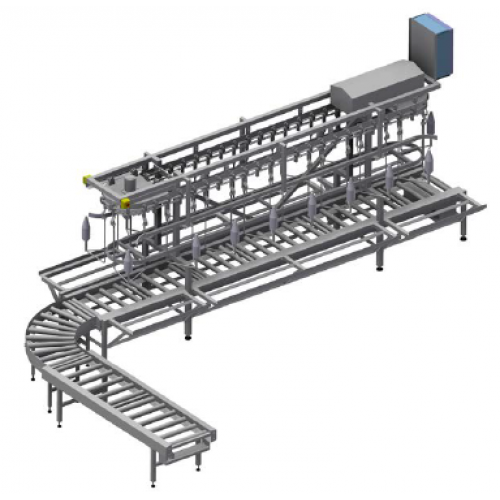 Poultry Cutting Line
Ships from:
FOB Brampton, ON Canada
U/M:
Each
Stock:
On Order
CM:
2970
Note:
Shipping to be determined

Poultry De-boning Line
This poultry cutting line is used for dividing and filleting. It is characterized by a simple and ergonomic design that ensures easy cleaning. The principle of operation is that gutted carcasses are attached to specially profiled stainless-steel racks. The stands are attached to a transport line. The cutting line has an adjustable belt speed, which allows it to be adapted to the individual needs and capabilities of users. The system of working on the line creates favorable social conditions for teamwork, ensures good organization and control of the process, increases work efficiency and productivity, and reduces employee stress and fatigue. The line ensures continuous standstill operation.
The segmented structure of the device enables any configuration of the line length by adding subsequent extension segments, along with the increase in the required device performance. In addition, the segmented design enables trouble-free transport and assembly of the device. The body of the line is made of stainless steel.
Can be Customized based on customer's request