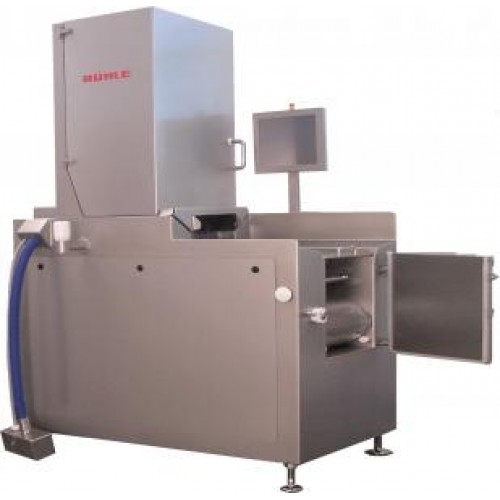 Curing Injector Ruhle IR 112
Type:
Performance: 7000 kg/h
Ships from:
FOB Brampton, ON Canada (O)
U/M:
Each
Stock:
On Order
Shipping Dimension:
84 X 44 X 88
Shipping Weight:
2,646 lbs
CM:
99
Financing Available


Ruhle HighTech Injection Centers IR 112 Injectors
The curing centre with 112 needles and as many softer knives is a novel machine construction with a technical equipment that has everything.
From the preparation, the program controlled working process to the cleaning and disinfecting, everything works fully automatic and with repeat accuracy.
With a belt width of 700 mm as well as 50 injections per minute the IR 112 achieves a performance of up to 7.000 kg per hour.
Technical Details
| | |
| --- | --- |
| Height of Machine | 2200 mm |
| Length of Machine | 2100 mm |
| Width of Machine | 1100 mm |
| Connected Load | 7.5 kW |
| Weight of Machine | 1200 kg |
| Performance: | 7000 kg/h |
| Injections: | 80 mm |
| Belt width: | 700 mm |
| Rows of needles: | 4 |
| Feed inlet height: | 200 mm |
| Injection volume: | 3-100 % |
| Pressure: | 1 - 6 bar |