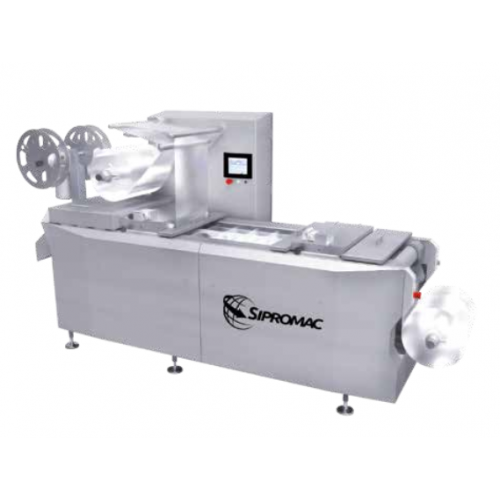 Thermoforming Machine TM-050
Type:
TM-050
Ships from:
FOB Manufacturer
U/M:
Each
Stock:
On Order
CM:
7848
Financing Available

Note:
Shipping to be determined

Sipromac TM-050 Thermoforming Machine
Sipromac thermoformers shape flexible or rigid trays customized to your products and cover them with a plastic film to make them perfectly sealed. These machines are ideal for production where efficiency and speed are required.
Stainless Steel Construction
8-10 cycles per minutes
Standard size: 420 mm web x 300 mm pitch
Maximum forming depth: 80 mm
Machine dimensions: 121" x 42" x 64" (3073 mm x 1067 mm x 1626 mm)
Flat sealing
Rectangular exterior pocket
Flexible film forming
Rigid film up to 400u (0.016")
Vacuum forming
Dedicated top and bottom vacuum and venting valve
Servo drive
HMI 7.5"
Tooling (1x)
Guillotine cross-cut (1x)
Longitudinal knife shaft
Trim rewinder
Motorized exit conveyor
Vacuum Pump Busch 100 m3 / 5.0 HP
Electricity 208 V / 3 Ph / 60 Hz
Electricity: no cable and plug, require electrician
Heated control box for microprocessor - keep heat inside the cabinet to control humidity
CSA certification
Packaging - wood skid or wood skid and crate
Note: Options marked with N/C = No Charge, and marked with * Needs to confirm with factory