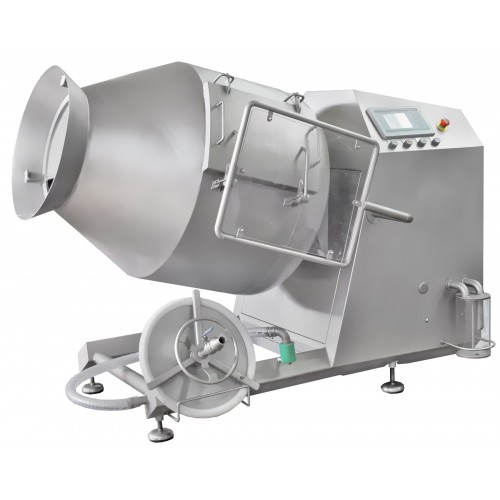 Vacuum Massager MS 300V
Type:
Product Capacity: 210 liters
Ships from:
FOB Brampton, ON Canada
U/M:
Each
Stock:
On Order
CM:
2880
Financing Available

Note:
Shipping to be determined

Brochure

Vacuum Massager MS 300V
Vacuum Tumbler is used for plasticizing and massaging the muscles at production of high-quality meat in meat processing factories.
The main advantage of this machine is pulsing vacuum, which stretches the muscle, and causes greater absorption of pickling brine.
Meat becomes juicy and brittle. The muscles are massaged in a closed drum of tumbler by using gravity.
This Machine has a single spiral blade. In this unloading is much more effective, especially in case of small pieces of meat, construction of single spiral blade and "inspection window" on the side of tumbling drum allows to keep it clean.
Designed for:
Small, medium and large meat processing factories
Laboratories, restaurants, supermarkets, catering
Plasticizing and massaging muscles, meat elements, carcasses, smoked meat
Plasticizing and massaging poultry
Marinating, preserving, pickling of meat
Mixing and salting of meat
Pickling, preserving and flavoring fish and seafood.
The main construction features:
The unique blade system ensures effective manufacturing process
Compact design
Efficient pulsing vacuum and a programmable, microprocessor. controller, 50 programs
The possibility of many options and modes of operation: intense, easy, mild, long lasting or another
Ergonomic design, easy to use, simple operation, easy maintenance unit in the necessary hygiene
High durability and reliability
Precision and aesthetic workmanship
Specifications:
Capacity: 300 L
Maximum input: 210 kg
Speed control adjustable: 1-9 r/min, inverter
Controller Mikster Indu iMax500, 50 programs
Main engine: 0,37 kW
Vacuum pump Busch: 0,45 kW
Pulsating under pressure: 0-99%
Power supply: 3x400V/50Hz (optional others)
Dimensions: 1870x1350x1460mm
Approximate weight ~650 kg
Entirely made of stainless steel