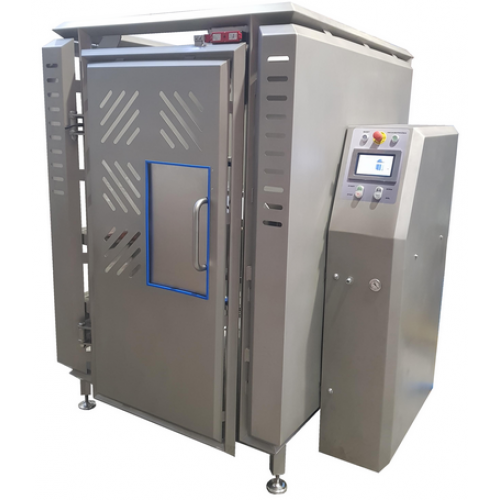 Universal Vacuum Mixer Tumbler
Type:
Mixing Capacity: 441 lbs
Country of Origin:
Poland
Ships from:
FOB Brampton, Ontario
U/M:
Each
Stock:
On Order
Product Dimension:
70x 74x 84
Product Weight:
1676
Shipping Dimension:
77 X 82 X 92
Shipping Weight:
2,011 lbs
CM:
8364
Financing Available

Note:
Shipping to be determined
Universal Vacuum Mixer Tumbler
For our most demanding customers that need massaging, marinating and mixing products, we have introduced trolley tumblers. This model has an exceptionally wide range and versatility of use. The mixer works with standard trolleys with a capacity of 200 liters and processes up to 200 kg of the product in one cycle. In addition, the tumbler achieves a 50% vacuum degree, but it is possible to increase this parameter thanks to the use of reinforced trolleys. The mixing device is designed to ensure thorough massaging, mixing, and marinating. It is also equipped with a digital monitor, on which in a simple and intuitive way we can program the time of starting work, its length or turning off the vacuum. This mixer is also friendly in keeping clean and maintaining the highest standards of hygiene.
Specifications:
Capacity: 200L
Max load: 200kg
Material: Stainless steel
Mixing rotation: Smooth regulated
Base: On 4 feet
Vacuum: 50% and can be increased
Technical Data:
External dimensions: 1776 x 1874 x 2125 mm
Weight: 760kg
Power: 400-480V (other power available upon request)
Control: Inverter
Ideal for Salads, Vegetables, Meat and Fish