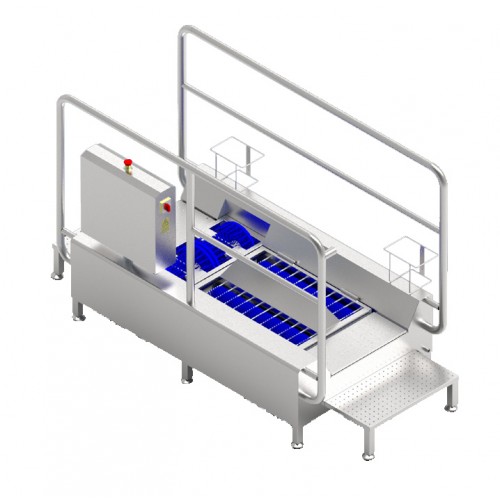 Universal Passage Sole Washer Unit for Low Heeled Shoes
Ships from:
FOB Brampton, ON Canada (O)
U/M:
Each
Stock:
On Order
Shipping Dimension:
117 X 38 X 50
Shipping Weight:
568 lbs
CM:
8053
Financing Available

Note:
Shipping to be determined

Universal Passage sole washer unit for low heeled shoes
Washer made of stainless steel materials 1.4301.
Water supply: 1/2".
Water drainage: PVC ø 50 mm.
Power supply: 220V 60Hz 3Ph
Control: 24V, IP67.
Drive: 5 x 0,25 kW or 3 x 0,25 kW, IP55.
Washer width: 34 inches
Sensors operated.
Automatic washing liquids supply.
| | | | | |
| --- | --- | --- | --- | --- |
| Model | Vertical Brushes | Horizontal Brushes Length (inches) | Washer Length (inches) | Weight (lbs) |
| 10 - Standard | Disc Brushes | 24 | 84 | 307 |
| 11 - Optional | Disc Brushes | 36 | 98 | 355 |
| 12 - Optional | Dics Brushes | 48 | 113 | 413 |