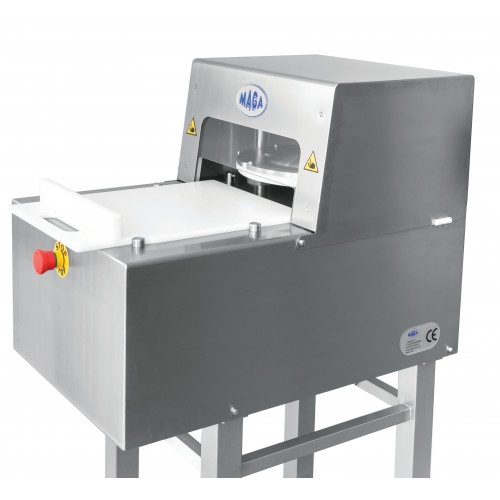 Maga Meat Press
Type:
Plate diameter: 300 mm
Brand:
1109
Location:
FOB Brampton, ON Canada (A)
U/M:
Each
Stock:
On Order
Product Dimension:
23.62 X 17.71 X 27.55
Product Weight:
265 lbs
Shipping Dimension:
48 X 32 X 30
Shipping Weight:
404 lbs
HTS Code:
8438.50.00
CM Product Code:
3600
Financing Available

Note:
Shipping to be determined
Maga Meat Press
Note: Standard with machine: comes with one upper tray (round tenderizer type) and one lower tray (the bottom square type)
The MAGA – meat press is a novel device with various applications in the meat and catering industry. It is used for smashing various meats to obtain slices of the same thickness from 0.5 to 30 mm.
A special structure of the plate and the tray ensure that the meat will still be juicy. The chopper will be clean as it can be easily replaced and washed in a dishwasher.
The meat press greatly accelerates and facilitates an onerous process of tenderising/stretching various products in a time-saving and cost-efficient manner.
MAGA smashing machine can successfully pound all meat types:
beef for beef roulades, tenderised cutlets, beefsteaks,
pork for pork chops, pork roulades, steaks, schnitzels,
poultry for breasts coated with breadcrumbs, chicken Kiev (côtelette de volaille)
seasoned grill portions prepared from different meats tenderised to optimum thickness
hamburgers to equal round portions
pizza shells and many others
This is a unique machine for:
catering companies
restaurants and bars
wedding halls
mass catering kitchens
plants producing ready-to-eat meals, meat ones (chops, hamburgers) and other e.g. pizza
It perfectly works in supermarkets and large meat departments, where under the eyes of buyers portions of tenderised meat can be prepared, which extends the range of meat products of:
beer
pork
poultry
game
mutton
All these products can be packaged on filmed trays in family sets of 3, 4 and more portions.
MAGA meat press will make your work faster and reduce the costs!
Advantages:
capacity up to 800 cycles per hour
freshness and weight of the meat preserved
the meat is delightfully tender andjuicy
thickness of meat can be smoothly and precisely adjusted to 5 to 30 mm
can be placed on a table or dedicated stand
automatic start of the machine when the tray is pushed in pounding process
power
Careful workmanship in assembly and all parts have been manufactured in Poland at our plant located in Komorniki near Poznań
Safety of operation of the original MAGA meat press is ensured by 4 security levels