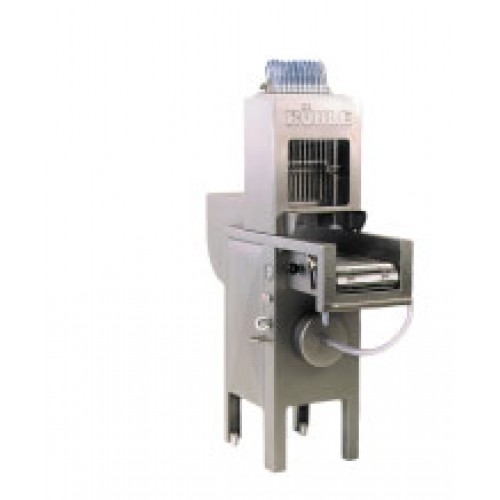 Curing Injector Ruhle PR 15
Type:
Performance:1000 kg/h
Brand:
1037
Location:
FOB Brampton, ON Canada (O)
U/M:
Each
Stock:
On Order
Shipping Dimension:
50 X 20 X 56
Shipping Weight:
287 lbs
CM Product Code:
554
Financing Available

Note:
Shipping to be determined

Ruhle Curing Machine PR 15 Injectors
PR15 Injector is equipped with a hand-injector (included in the price). The injector is fully made in stainless steel, also, the transport belt is stainless steel and can be removed completely from the machine for perfect sanitation.
This precise tuned machine system guarantees an accurate and uniform injection which is able to inject 5 % to 40 % of liquid into 1000 kg of meat.
Technical Details
Machine height: 1.400 mm
Machine length: 1.270 mm
Machine width: 500 mm
Machine weight: 130 kg
Connected load: 220/230V - 50/60Hz - 3Ph/-/PE
Belt advance feed: 25 mm/step
Belt width: 270 mm
Rows of needles: 2
Feed inlet height: 180 mm