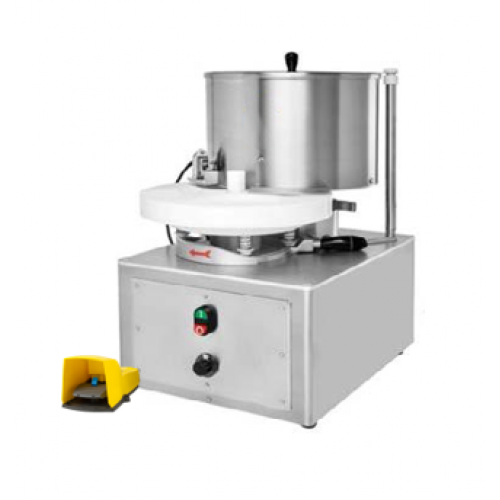 MH100 CE - Patty Forming Machine
Type:
Production: 1800 P/Hr
Country of Origin:
Spain
Ships from:
FOB Brampton, ON Canada (O)
U/M:
Each
Stock:
On Order
Shipping Dimension:
27 X 22 X 37
Shipping Weight:
200 lbs
CM:
599
Financing Available

Note:
Shipping to be determined

MH100 CE - Patty Hamburger Forming Machine
MH series dispensers are the ideal solution for butchers, pork butchers and any other food industry wishing to speed up the production process.
With a capacity for producing up to 1,800 hamburgers at a time, the dispensers can also be used to make 3600 meatballs per hour, as well as cannelloni's, croquettes, and any other made to measure shape. The thickness is adjustable, allowing burgers to be made up to 130 mm in diameter and of the desired weight. Its practical design makes it quick and easy to assemble and dismantle, thereby simplifying the cleaning process and reducing this process to less than 5 minutes.
Features:
Equipped with a speed controller
Safety micro switch on the lid and on the dispenser plate
Allows burgers of up to 130 mm (5.11") in diameter and 25 mm (0.98") thick for the MH-100
Allows burgers of up to 100 mm (3.93") in diameter and 25 mm (0.98") thick for the MH-75
One Mold Plate and Free Foot Pedal included in Price of machine.
Optional Hopper for continuous filling
Options:
Custom Plate Sizes available, ask for details